We are Massivizing Computer Systems, that is, making (distributed) computer systems scalable, reliable, performant, etc., yet forming efficient, engineered ecosystems available to everyone. Our work improves large-scale infrastructure, datacenters, cloud computing, big data, and numerous popular applications in the Digital Economy. Want to learn more? or Want to understand our research?
Our Mission
1. Improve the lives of millions through impactful research.
2. Educate the new generation of top-quality, socially responsible professionals.
3. Make innovation available to society and industry.
Current Openings
Looking for more openings? Interested to join or visit? Contact us!
Awards
Recognized as Member of the T500 (2017)
The Next Web and Young Creators elected L. Overweel as one of the most-promising under-25s in the Dutch digital scene.
First Place Prize World Port Hackathon, Rotterdam (2016)
For L. Overweel, D. Vos and W. Raateland, who created a prototype for a blockchain-based solution for smuggling detection in the Port of Rotterdam.

Inducted in the Royal Dutch Young Academy of Arts and Sciences (De Jonge Akademie), 2016
A. Iosup, for computer science research and related activities.
Winner of the Netherlands Award for ICT Research, 2016
For A. Iosup, for research breakthroughs in ICT.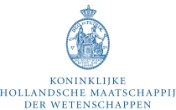 Young Talent Incentive Award for Informatics and Computer Science, 2016
For G. Andreadis, for the best grades achieved in the first year at a Dutch institution for academic education.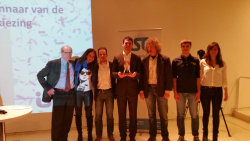 Dutch Higher-Education Teacher of the Year 2015
For A. Iosup, awarded by the Minister of Education and ISO.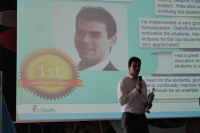 Best Lecturer of the TU Delft (2013-2014)
For A. Iosup.
Winner of the IEEE TCSC Scale Challenge. 2014
For B. Ghit, M. Capota, T. Hegeman, J. Hidders, D.H. J. Epema, and A. Iosup, "V for Vicissitude: The Challenge of Scaling Complex Big Data Workflows".
SPECtacular award, SPEC, 2013
For A. Iosup, for Technical Leadership ('13) and for Outstanding Service ('12).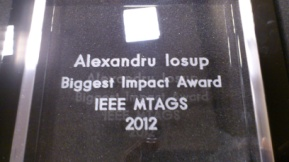 Biggest Impact Award, ACM SC/MTAGS 2012
For A. Iosup, S. Ostermann, N. Yigitbasi, R. Prodan, Th. Fahringer and D.H.J. Epema, "Performance Analysis of Cloud Computing Services for MTC-Based Scientific Computing", IEEE TPDS 2011.
Best paper award, IEEE CCGrid 2010
For D. Kondo, B. Javadi, A. Iosup, D.H.J. Epema, "The Failure Trace Archive: Enabling Comparative Analysis of Failures in Diverse Distributed Systems".

Distinguished Paper Award, EuroPar Conference 2009
For A. Iosup, "POGGI: Puzzle-Based Online Games on Grid Infrastructure".

3rd-Place ACM SRC at ACM SuperComputing 2007
For A. Iosup, "GrenchMark: A Framework for Testing Large-Scale Distributed Computing Systems".
Best Paper & Best Student Nominations, ACM SuperComputing 2007
For A. Iosup, D.H.J. Epema, T. Tannenbaum, M. Farrellee and M. Livny, "Inter-operating Grids through Delegated MatchMaking".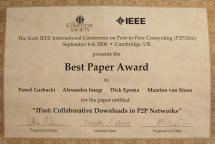 Best Paper Award, IEEE P2P 2006 conference 2006
For P. Garbacki, A. Iosup, D.H.J. Epema, M. van Steen, "2Fast: Collaborative Downloads in P2P Networks".